Italian at heart and on the plate
We arrived for the interview a little bit early. The Sheholli family were already having their lunch. 'Today I cooked pasta for us,' laughs Masar as he greets us. 'I cook daily for the family and love to try out new recipes.' Pasta dishes are usually an exception, after all for the Shehollis every day is about pasta since the couple took over this local business and its production rooms in 2017.
Fulfilling the customers' wishes
The beginning wasn't easy. 'In the first month I hardly earned a franc.' Masar worked for another pasta producer before he took over his own place. Nevertheless, the Shehollis managed to build up a regular customer base during the following months and years. Their main clients were besides a local supermarket, local restaurants which Pasta-Pasta supplied with both fresh and frozen pasta. Masar's long term experience in catering gave him the knowledge of what exactly professional chefs need. 'The dough shouldn't be too thin so that it does not fall apart in water, or the filled ravioli break up.' People who buy pasta in their shop on the other hand prefer it to be as thin as possible. This is no problem for the pasta producer who prepares the dough from scratch and so can meet all his customers' needs.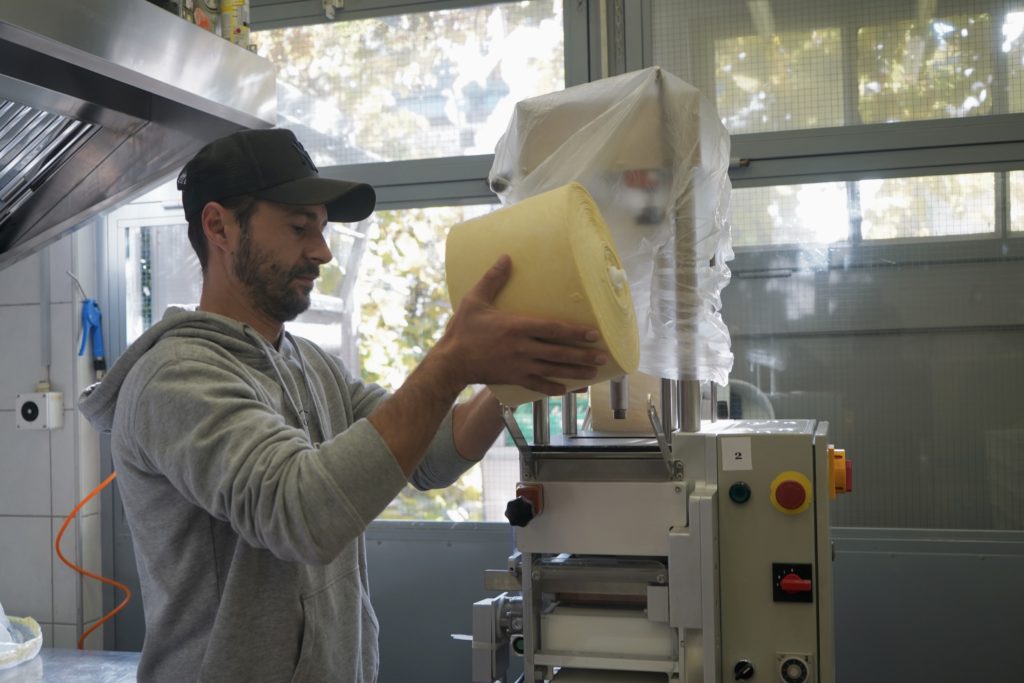 The Corona threat
And then Corona arrived. Restaurants had to close for months and turnover literally amounted to nothing overnight. What could be done? Desirée and Masar had to reinvent their company. Since then they offer their products at their community's local fresh market which takes place in Basel every week. They recall that this option was very successful during the lockdown but now that the home-office regulation has been loosened, the amount they sell on the market has tended to drop. Yet again restaurants have started to order products but at an amount far less than before the pandemic. Luckily Desirée was able to keep her part-time job as a hospital nurse which has provided them with some financial stability in these stormy times. The couple complement each other well. Desirée deals with all the paperwork and serves customers in their shop and Masar leads the production and distribution work. They are helped by his father and one employee.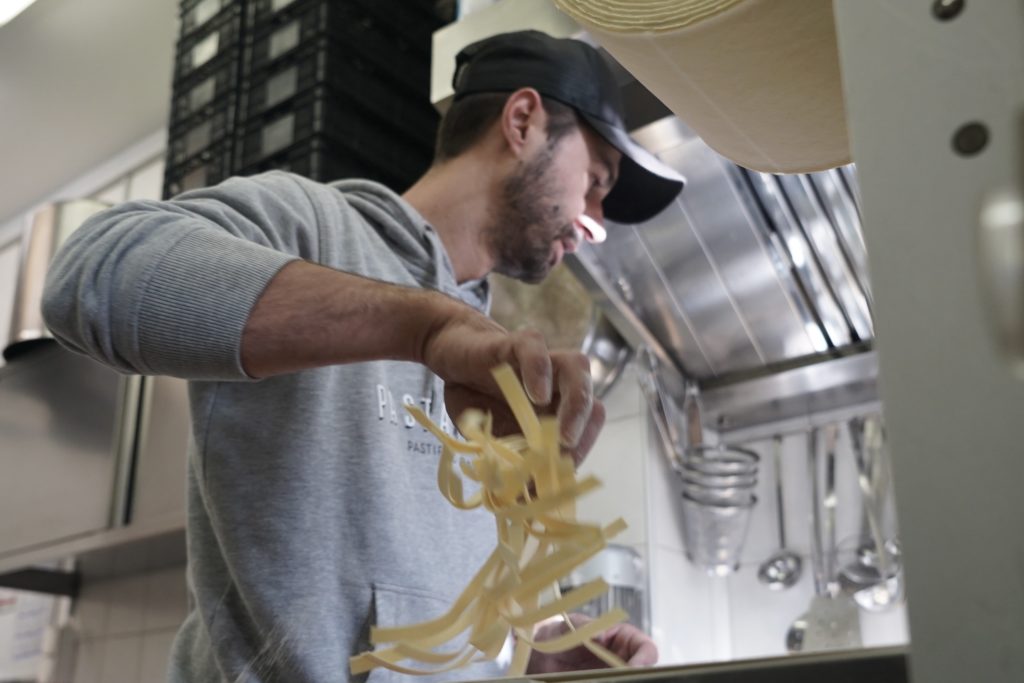 Certified Local Business
Every day there is a lot to be done in the kitchen. Pasta-Pasta is a certified local business which means Masar needs to buy his ingredients within a circle of 30km from his location. Whether it's the greengrocer, butcher or miller, Masar regularly calls in to collect his fresh ingredients. The rest is lots of manual labor. This begins with the preparation of 3kg of basil, 'Just this job of picking off the leaves takes per kilo about an hour and stops only after the hours needed to stew beef for the ravioli filling.' Masar enjoys creating new recipes. This is just a selection of his own creations for Pasta-Pasta to whet your appetite: Gnocchi with beetroot, orange or chives. Harissa ravioli, lemon ravioli, tagliarini with saffron or sepia. Not to be missed lasagna with or without meat.
The ability to make the best out of a situation, the hard work and untiring will and the goal to make Pasta-Pasta products well-known and popular in the region is admirable. Not surprisingly does the lively businessman have a new idea to get around the difficulties presented by the Covid situation. 'I want to cook on-site in business districts so that I can offer take-away.' Masar has already prepared the bases for this, 'During the lockdown I restored my old three-wheeled motorbike.' It's highly possible that soon the inhabitants from the city of Basel will be able to enjoy handmade and delicious pasta on the go!