Step by step to success
The beginning was not an easy one. After his studies in agricultural sciences, Michael Finegan spent four years working in New Zealand. He was convinced that on his return to the green island he would take over his parents' farm. 'My grandfather and father ran a classical dairy farm,' explains Michael. However, nothing became of his original plans. In order to keep up with today's dairy industry the Finegans would have had to invest greatly in their business. On the one hand they did not have the money to do so. On the other hand the local coop was urging farmers to switch to goat milk production as the demand was greatly increasing in Ireland. So the Finegans decided to convert their farm for a new beginning. At the end of 2008 the buildings to house the goats and the parlour were ready as the first goats arrived at Mullagha House and Estate, in the fertile Boyne valley about an hour's drive north of Dublin.
Milk from about 300 animals
Then the financial crises hit Ireland. 'Suddenly the demand for goat milk dropped drastically and milk prices became very volatile,' recalls Michael. Therefore he had to rethink again. 'In order to establish a constant income I began to give a part of the milk to an experienced cheese maker.' Soon Michael was delivering just half of his goat milk to the local coop. The other half was used to produce blue cheese. Michael assisted the experienced cheese maker and learned a lot about cheese production.
In order to keep the farm profitable he decided to step into cheesemaking on his own. Today he processes milk from around 300 animals in a new production room located right beside a large goat stable. Nearly all the goats are originally Swiss breeds: Saanenziegen, Alpine, Toggenburger and Anglo-Nubian. They live in a spacious barn and depending on the weather go out to graze once a day to neighbouring fields. In addition to this the herd gets lots of fresh clover rich grass from the farm. With an average of 3 litres milk per animal, Michael collects a few thousand litres to work with per week.
Demand exceeds production
Actually Michael could process more milk. As 'I can't meet the demand for my cheese.' Yet more animals means more work, 'Then I would have to employ somebody,' says the goat owner. Until now the Finegan family could not decide if they are ready for this step. At the moment Michael prefers to concentrate on his cheese production.
While the Boyne Valley Blue Goat Cheese sells by itself, a few years ago Michael launched his own Tomme cheese. Both products he makes once to two times per week using his own pasteurized milk. He has shortened the ripening process of the blue cheese from what was originally three to five months to six weeks. The reason being: 'Young blue cheese has a milder taste and sells better.' He would like to restart selling ripe blue cheese again but he doesn't have enough milk to do so and his main customers, well known caterers and delicatessens, do not want to wait so long.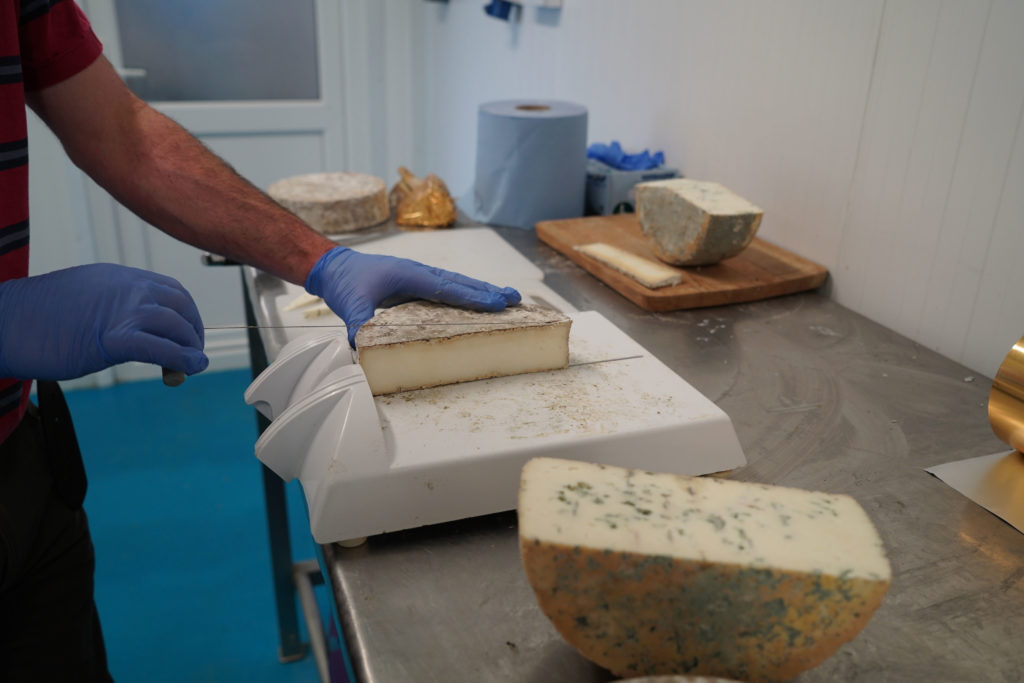 Quality awareness instead of rapid growth
Through his blue cheese and Tomme cheese Michael Finegan made the change from a traditional dairy farm to become a successful goat cheese maker. But the ups and downs during the first few years have made the Finegans careful. 'I'm not sure if we will develop the range as I would rather produce two good cheese varieties than just an average mass product.'
We were lucky to be given a nice wedge of each cheese to take with us and enjoy. Each bite reminded us of the farm, the friendly reception we received and curious looks we got from the goats.