Living off your own back
When Jaques' father passed away, both he and his family were confronted with a dilemma; to continue living in the south of France where Jaques had been working as a vintner in a large vineyard for many years, or to return to Brittany where his parents' farm had remained unproductive since the 1980's. The majority of the land was on lease and the apple orchards close to the farm were overgrown with weeds.
In the end the Kerdaniel family decided to turn their backs on the south and also to vine growing, choosing to start producing apple juice and cider. For Jaques and his wife, Alix, the situation gave them a once off chance to realise their dream. To make their own living, and to do so in a way which is in rhythm with the seasons, in balance with nature and with enough spare time to enjoy family life and their children.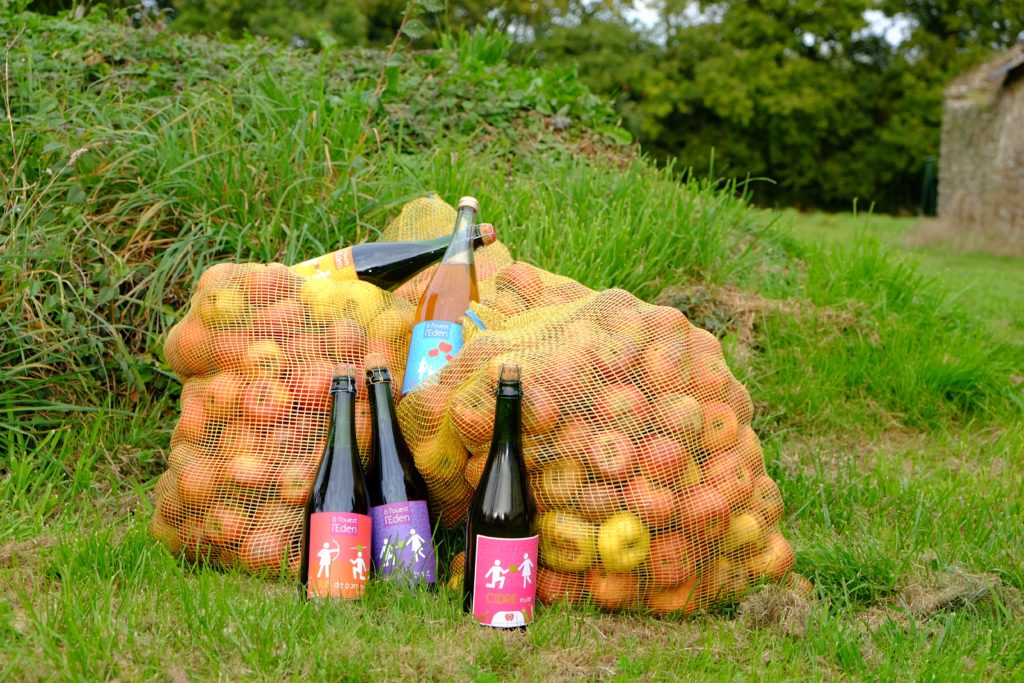 The beginning of a new life

What might sound romantic was at the start full of uncertainty and a lot of hard work. 'First we had to renovate three buildings and plant new apple trees over an area of two hectares of what was fallow land,' tells Jaques. On top of this, the leases had to be terminated so that new land was made available for planting more trees. 'In the first year we worked with just ten of our own trees,' recalls Alix. Too little an amount to produce enough cider or juice. This is why the Kerdaniels took over their neighbour's unused land which already had mature trees on it. Through this addition they were able to bridge the years until the newly planted trees could produce enough fruit.
In the west of Eden
In the meanwhile their yearly production of 3,000 bottles has increased to about 18,000 which are sold under the label 'À l'ouest L'Eden'. The range includes a still and sparkling juice as well as cider. Despite the continual enlargement of the orchard something has always remained, 'We don't use any chemicals, we don't spray the trees or add sulphur to the cider, and the apples are harvested by hand.' The connection with nature and the region is seen by their choice of apple trees. 'We mainly use old regional varieties such as Guillevic, Fil Rouge and Jeune and Peau de Chien,' explains Jaques.
Separated pressing
As a professional vintner, Jaques knows the deciding factors which exist besides the care and attention that is involved in producing a high quality product. 'Basically you can use apples of mixed varieties at the pressing stage, but each one has its own slightly different ripening stage. We prefer to press the fruit separately and then at a later stage to mix them with the juices from other varieties,' explains Jaques. The ones chosen for cider are left to ferment over winter. After the filling of bottles the fermentation stage continues. As well as preserving the natural product, the Kerdaniels are adamant that it remains closely connected to its origins. This is why they do not sell at local markets, but instead they want visitors to Brittany to come and see their business, hear about their philosophy and to present their products to them where they are stored in a delightful cellar.